Guías prácticas
conoce cómo cargar, enganchar y salir a la ruta
nociones de remolque
cómo poner tu carga
primero carga lo pesado
El remolque seguro comienza cargando correctamente. El peso desigual puede afectar la dirección, los frenos y el control de oscilación.
En general, el 60% del peso de la carga debe estar en la mitad delantera del tráiler y el 40% en la mitad trasera (a menos que el fabricante indique algo diferente). Cuando colocas la carga, querrás que esté equilibrada de lado a lado, manteniendo el centro de gravedad cerca del suelo y sobre el eje del tráiler.
sujeta tu carga
Después de equilibrar la carga, debes sujetarla en el lugar. Una carga sin sujetar puede desplazarse cuando el vehículo está en movimiento y causar inestabilidad del remolque.
Usa sogas de nylon o cuerdas de remolque para atar todo.

correcto: tráiler con carga equilibrada

incorrecto: tráiler no equilibrado
antes de remolcar
confirmar el peso
equilibrar peso de la lengüeta
cómo conectar el tráiler
Ya sea que estés conectando un receptor de enganche, un enganche de quinta rueda o cuello de cisne, estos tres videos te ayudarán a preparar tu remolque en pocos pasos.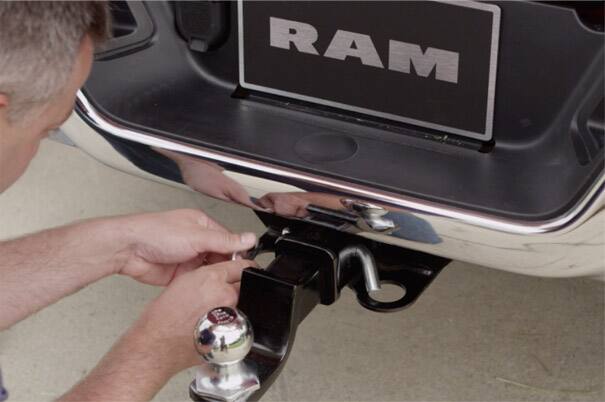 ¿Cómo conectar un receptor de enganche,
remolcar un bote o un tráiler de hasta 10,000 lb? Conoce cómo conectar un receptor de enganche en cuatro pasos simples.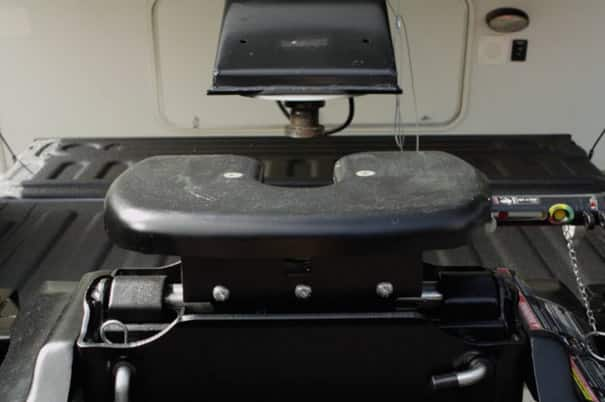 ¿Cómo conectar un enganche de quinta rueda?
Un receptor de quinta rueda parece un enganche con forma de herradura en un camión grande. Es perfecto para remolcar R/V. Te mostraremos cómo hacerlo.
cómo manejar con un tráiler
Si es la primera vez que remolcas un tráiler, asegúrate de practicar en un lugar abierto antes de salir de viaje. Esta es la información básica.
ir despacio

Cuando remolcas un tráiler cargado, tienes que acelerar y frenar con más distancia. Entonces hazlo despacio dejando lugar entre tu camioneta y otros vehículos. Conduce como lo harías en un camino con hielo.

mantener el control

Si sientes que el remolque comienza a oscilar o serpentear, simplemente quita el pie del pedal del acelerador. No frenes ni aceleres.

adelantarse

Como regla, adelántate solo cuando sea necesario y acata todas las normas. Recuerda considerar la longitud del tráiler cuando pasas un vehículo más lento. Verifica haber dejado atrás al otro vehículo antes de retomar tu carril. Además, el peso adicional del tráiler hará que la aceleración sea más lenta. Asegúrate de usar señales de giro y dejar espacio libre suficiente.

llevar neumático de repuesto grande

Nunca uses un neumático de repuesto compacto cuando remolcas un tráiler.

cómo estacionar

Siempre estaciona en una superficie plana y nivelada. Busca un lugar para estacionar donde puedas ir hacia adelante para evitar retroceder en un estacionamiento. Siempre pon el freno de mano y coloca calzas en las ruedas del tráler.
más largo es el tráiler, más amplio el giro

Balancéate mientras giras y mira los espejos dos veces para asegurarte de que el tráiler pase todos los obstáculos.

terreno desparejo

Siempre disminuye la velocidad antes de ir cuesta arriba. Si tu vehículo tiene transmisión manual, baja un cambio al subir y descender pendientes.

cómo retroceder

Primero, coloca tu mano en la parte inferior del volante. Para girar a la izquierda, mueve tu mano a la izquierda. Para girar a la derecha, muévela a la derecha. Ajusta la dirección de a poco. Leves giros del volante permiten mayor movimiento del tráiler.

Si el remolque colea, simplemente avanza para enderezarlo e intenta de nuevo. Puede tomar tiempo acostumbrarse a retroceder, por lo tanto, hazlo despacio y pide a alguien que se ubique detrás del tráiler y te diriga.

consejo




mantente alerta

Acelerar, frenar y cambiar de carril lleva más tiempo cuando remolcas un tráiler. Mira más lejos en la carretera para asegurarte de evitar cualquier problema posible.
what is tongue weight?
Close
tongue weight
Tongue weight is the downward force exerted on the hitch ball by the trailer coupler. Incorrectly balanced tongue weight can lead to jackknifing and loss of control. By loading your trailer with 60% of the weight toward the front of the trailer, you're placing 10-15% of the GTW on the vehicle's hitch ball. For a small fee, you can weigh your trailer at a highway truck stop. Never exceed your truck's maximum tongue weight.
recommended weight distribution figures:
tandem axle trailer

9% - 15%

single axle trailer

10% - 15%

fifth-wheel trailer

18% - 20%
how to balance tongue weight
Close
too much tongue weight

If the wheel well is crowding your tires, you have too much tongue weight. Solve it by moving heavier items toward the center of your trailer.

not enough tongue weight

If there is too much weight in the rear of your trailer, it can actually lift the rear of the truck a bit, resulting in negative tongue weight. Again, solve it by moving heavier items toward the center of your trailer.

balanced tongue weight

A correctly balanced tongue gives you full control of both your truck and trailer. If your trailer's tongue is parallel to the ground, it is balanced correctly.
how to balance tongue weight